2023 PHAA NATIONAL CHAMPIONSHIPS
AELEC, Tamworth

14th - 21st April 2022 (bump in 13th April 2022, bump out 22nd April 2022).
The PIC Number for AELEC Tamworth is NH508378.

NATIONAL SHOW PACKS
Coming Soon!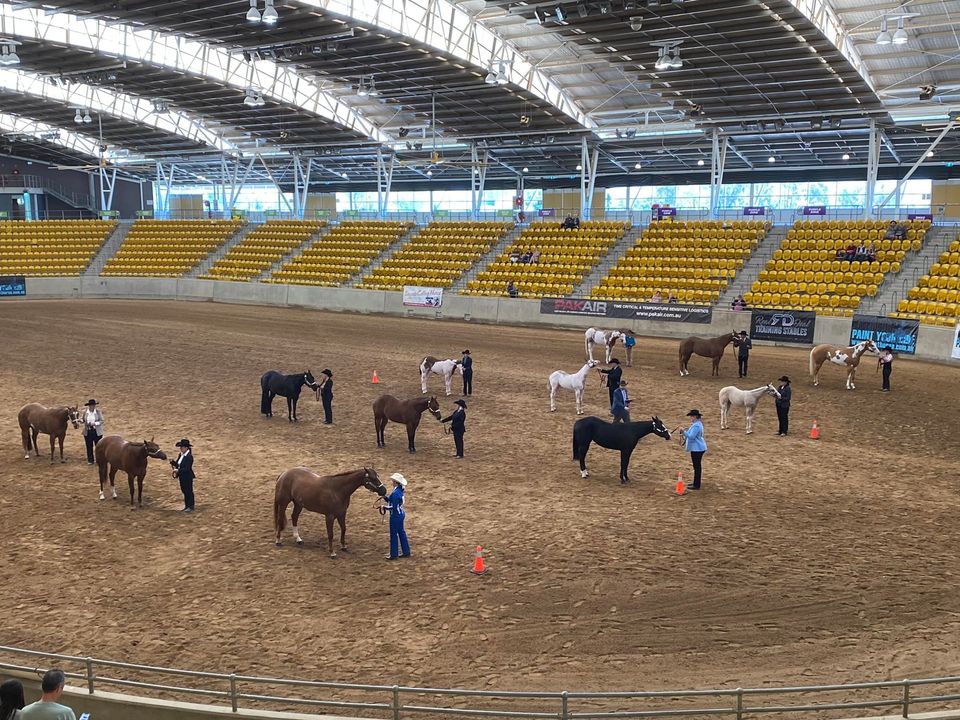 ---
Our Thanks to our generous 2022 Sponsors & Partners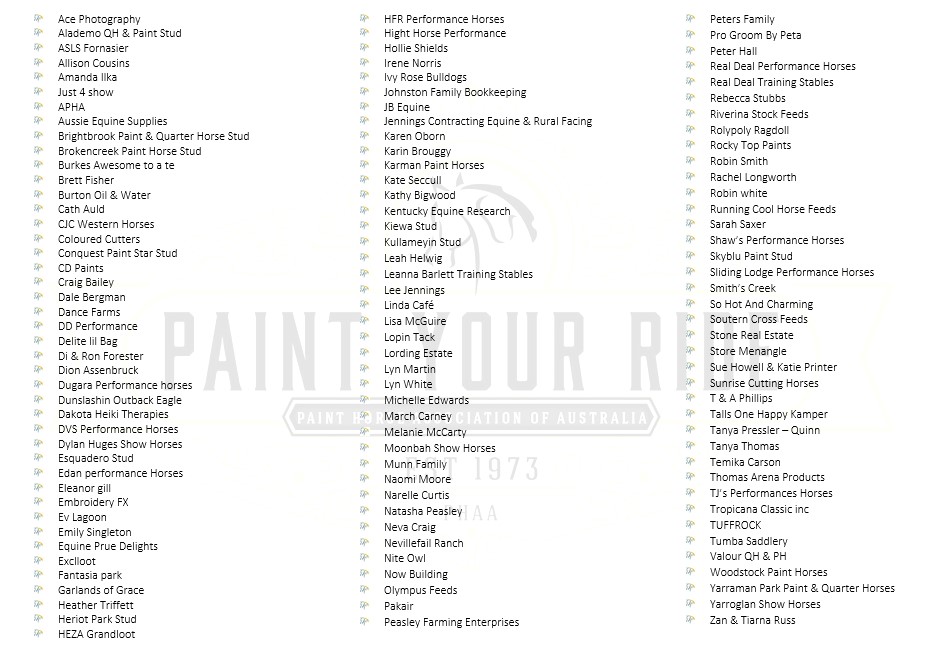 Contact the office - office@painthorse.net.au to come on board as a valued Sponsor.
WE NEED YOU :)
If you are able to assist as a volunteer at the 2023 Nationals please contact The Office on (02) 6884 5513 office@painthorse.net.au

---
SPONSORSHIP PACKAGES
We at the Paint Horse Association of Australia would like to invite your business to become a part of an excellent promotional package that will have your business promoted throughout Australia and overseas by considering sponsorship of our annual Paint Horse National Championship Show.
This year's show is to held the 15th - 21st April in Tamworth, New South Wales at the Australian Equine and Livestock Events Centre (AELEC).The show is judged by International accredited Judges from USA.
This event is in its 40th year and has grown significantly due to the increased interest in this prestigious horse breed along with the support shown to us from sponsors just like you who have helped fund it.We are immensely thankful to our past, present and future sponsors.
Last year's event achieved nominations of over 200 horses with some travelling to compete from as far as Perth in the West and Townsville in the North.
Please click HERE to download the documents that describe the levels of sponsorship we would like for your company to consider, from simply sponsoring the ribbons for one class ($50), through to our corporate major sponsor with naming rights to the Championships ($10,000). Also listed within the package are the benefits you will receive.
If there is not a package that suits, we would be more than pleased to discuss any alternatives you may want to consider to make this mutually beneficial for your company and the PHAA.
If you are ready to proceed please complete the sponsorship commitment form also within the downloadable document and return to the Paint Horse Association of Australia Ltd on the details listed on the top of the form.
Don't miss out on being a part of this brilliant concept and contributing to an ever growing sport and membership that will promote your product.
The Paint Horse Association of Australia takes pride in our supporters, promoters, competitors and upcoming members wanting to take part in this exciting family sport.
Kind Regards,
Board of Directors and Members
Paint Horse Association of Australia Ltd